Monday, February 4, 2019
Constructor: Ali Gascoigne

Relative difficulty: Medium




THEME: INSIDE INFO — Theme answers contain the word "info," well, inside them.

Theme answers:

T

INFO

IL HAT (17A: Paranoiac's headgear)
OUT

IN

FO

RCE (25A: Present en masse)
YOU'RE

IN

FO

R IT NOW (36A: "This means trouble, my friend")
BRA

IN FO

ODS (48A: Blueberries and fatty fish, nutritionists say)

INSIDE INFO (56A: Dirt ... or what 17-, 25-, 36- and 48-Across all have?)
Word of the Day:
BLINI
(48D: Thin Russian pancakes) —
(Wikipedia)
• • •
Yesterday was Super Bowl Sunday, and today is Annabel Monday! I'm writing this right now while paying about zero attention to the game. The 20 minutes of the Puppy Bowl I watched were super cute though. Although I do feel like they're getting a little gimmicky with all the non-puppy animals (I'd be mad at the concept of "cheerleader kangaroos" if they weren't
so
cute), I have to forgive them. What's better for the winter blahs than watching a hundred puppies run around until they get tired?
...Anyway, I felt super (as in
SUPERFOODS
, something I had clued for
BRAIN FOODS
for a really long time, and I assume I'm not the only one who did so) embarrassed when I looked up blini and realized that I should totally have recognized them--I'm literally Ashkenazi Jewish, I'm supposed to know blintzes! But it's still a more traditional way of saying blintzes that I didn't recognize immediately so I'm leaving it in. Pastry aside, I actually felt like this one was kinda hard for a Monday? A lot of the crosses in the
AT BAT
region were clued kind of weirdly (
AT BAT
itself was fine though, and I'll freely admit it was my own fault for not getting
SKI BUM
), and there were several other places that had difficult crosses. Speaking of
AT BAT,
what was up with all the baseball clues on a big football night? I think Ali Gascoigne might be missing summer...I don't blame him, brrr. Also,
TROD
right above
REINS
reminded me of all the times I've been stepped on by a horse, which, ouch.
I don't have a whole lot to say about the theme. Inside info, the answers have info inside them, gotcha. It did help me solve
YOU'RE IN FOR IT NOW,
because there were so many spaces and there are so many variants of that saying that I wasn't sure which would fit best!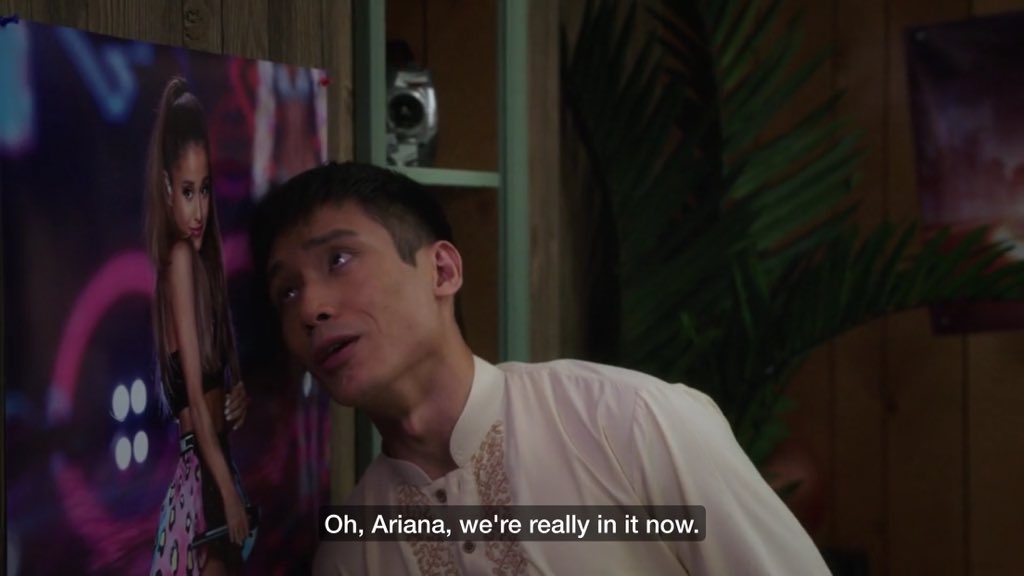 Had a distinct feeling it wasn't this one, though.
Bullets:
EASY (30A: Like a Monday crossword, typically)

— Hey, this is the second time I've seen this clue, in, like...two months? Three months? I dunno, it just seems like it might be time to give it a rest for a little while.

GODOT (34D: Title character who never arrives in a Beckett play)

— I recently found out this is the origin of the phrase "That's how it is on this bitch of an earth" and, for that, I have a ton of respect for Samuel Beckett. I mean...it really is how it is sometimes.
PODS (13D: Racing vehicles for Anakin Skywalker — I keep seeing people walking around with Air Pods (Airpods?) now, and personally, I just want to say that I could never. I lose my regular headphones all the time and those are literally attached to my ears with a cord. I'd have to get a big bag of those things and just go through 'em like popcorn.
THE (40D: First word of every "Friends" episode title) — So CrossWorld, what's your favorite "Friends" episode? I prefer "Seinfeld," but for me it's still a tie between "The One With Phoebe's Birthday Dinner" and "The One With The Baby On The Bus."
Signed, Annabel Thompson, tired college student.
[Follow Rex Parker on
Twitter
and
Facebook
]
[Follow Annabel Thompson on
Twitter
]