Monday, May 7, 2018
Spring has sprung and finals season is in full swing, but it's still Annabel Monday!


Constructor: Julie Bérubé

Relative difficulty: Medium


THEME:
TOOL BOX
— Circled letters spell out things you'd find in a toolbox.
Theme answers:
GROUND

S CREW

(17A: Group preparing a ball field for a game)
EA

T A PE

ACH (27A: 1972 platinum album by the Allman Brothers Band)
STAY

S AW

AY (48A: Doesn't get near)
TUNA SA

SHIM

I (61A: Japanese delicacy served in thin slices)
ALVI

N AIL

EY (12D: American Dance Theater founder)
ESPA

DRILL

E (27D: Shoe that ties around the ankle)

TOOL BOX (38D: Locale of all the circled items in this puzzle)
Word of the Day:
ORLON
(
26A: DuPont fiber
) —
Acrylic fibers are synthetic fibers made from a polymer (polyacrylonitrile) with an average molecular weight of ~100,000, about 1900 monomer units. For a fiber to be called "acrylic" in the US, the polymer must contain at least 85% acrylonitrile monomer. Typical comonomers are vinyl acetate or methyl acrylate. DuPont created the first acrylic fibers in 1941 and trademarked them under the name Orlon.[1] It was first developed in the mid-1940s but was not produced in large quantities until the 1950s. Strong and warm, acrylic fiber is often used for sweaters and tracksuits and as linings for boots and gloves, as well as in furnishing fabrics and carpets. It is manufactured as a filament, then cut into short staple lengths similar to wool hairs, and spun into yarn.
(Wikipedia)
• • •
Honestly I just felt like this was a really solid puzzle. I do have a couple gripes; there's got to be a clue for
JEN
that doesn't involve Jennifer Aniston for no real reason, if I never see a lazily-clued
IRE
in a Monday again it'll be too soon, and for goodness' sake we all know not every guy pairs up on dates with a
GAL,
or vice versa. (
GAL
is a particularly humorous choice of word there, as "gal pals" has come to mean "women who are girlfriends" in parts of the gay community, due to the phrase being used by online tabloids to refer to, well, women who are girlfriends.)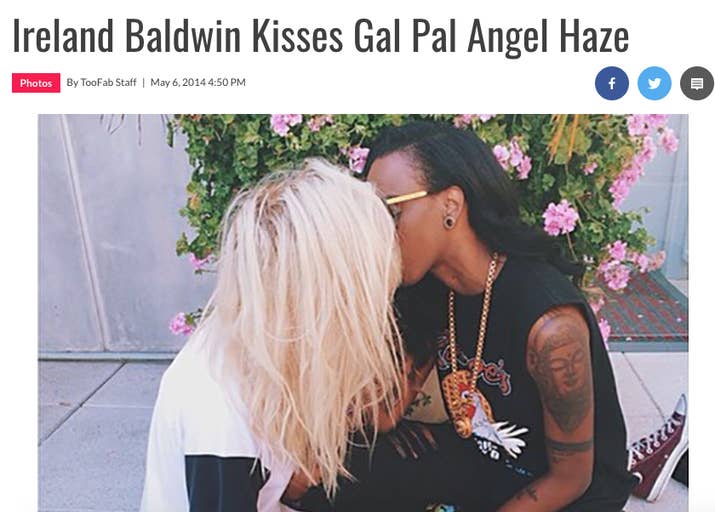 Spoiler alert: at the time, they weren't actually just gal pals.
Still, though, this one was neither too
EASY
nor too hard, and was reasonably creative to boot. Had
PEPPER
for
POLLEN,
but the latter's certainly more appropriate for the season, and I was seriously half-convinced 69A would be
BOPS
instead of
RAPS
,
"bop" meaning "good song." Some really good turns of phrases with
AWASH IN
and
IN DEEP,
and for
once
TEE
wasn't clued with golf, which I'm convinced is some kind of miracle. But yeah, good fill, good difficulty level, mostly good clues with a couple duds.
I know the concept and execution were pretty simple, but this is actually one of the more fun themes I've reviewed for this blog. Maybe because I actually didn't know several of the answers surrounding the tools? I'd never listened to the Allman Brothers band before, and although I know I own
ESPADRILLES
I never knew that was what they were called. Also, had no idea what a shim was; apparently it's basically like a spacer that's used for support or adjustment in everything from carpentry to fixing cards. So I basically got an extra word of the day right there! My one complaint is that I'm now craving
TUNA SASHIMI
.
GORGONZOLA
and
EEL
didn't help. I think I'm going to go get a snack.
Bullets:
EXPAT (35D: One living abroad, informally)

— I have a friend who moved to DC from Texas who calls herself a "Texpat," and I feel like that says a lot about Texas. And/or the rest of the country in comparison to Texas.

OWEN (15A: Actor Wilson of "Midnight in Paris")

— I'm sure this is a fine movie. I really am. But I still can't think of Owen Wilson in any context without hearing, in my head, a resounding "WOW."

OHNO (26D: "Say it ain't so!")

— This is how I'm feeling at this point in the semester. Did you know Wellesley College has an event called "primal scream" right before finals period where everyone just goes outside and screams at the top of their lungs? I feel like that's sort of the embodiment of an OH NO.

ETTA (53A: James of jazz)

— Couldn't think of a nicer song to start the morning with.
Signed, Annabel Thompson, tired college student.
[Follow Rex Parker on
Twitter
and
Facebook
]
[Follow Annabel Thompson on
Twitter
]