Tuesday, October 16, 2012
Constructor: Bill Thompson

Relative difficulty: Medium-Challenging


THEME:
Interior designer
— names of fashion designers are hidden inside phrases that could potentially be said by people
Word of the Day:
GESSO
(Mural surface) —
Gesso

(

Italian

:

ˈdʒɛsːo

"

chalk

," from the Latin

gypsum,

from the Greek

γύψος

) is a white

paint

mixture consisting of a

binder

mixed with

chalk

,

gypsum

,

pigment

, or any combination of these.

It is used in

artwork

as a preparation for any number of substrates such as wood panels,

canvas

and sculpture as a base for paint and other materials that are applied over it.
• • •
If the first four Across answers in your puzzle are
DORMI
,
FENDI
,
ADZ
,
and
EPEES
,
try again. As a rule of thumb, if your 1-Across is a New York Times crossword debut, try to make it something fun and current, or at least try to avoid it being a partial from a lesser-known Verdi duet. Lame words are fine when they serve as support for stellar banner entries, but
ISAO AOKI
(whose AO-AO train is admittedly pretty fun) and
FARM ANIMALS
aren't quite shiny enough to allow for
DORMI
,
EPEES
,
DEFANG
,
GESSO
, and
NUL
to all get a free pass. And the
ADZ
–
ZAG
–
RIA
has no excuse in a 3x3 block that fillable. I was convinced the reason for all this was a pangram (unnecessary Z, showy Q and J) until I saw that there was no X in sight, or W for that matter.
How was my Rex Parker impression? Pretty good, right? I bet you didn't even realize it wasn't the king himself until I told you. But I'm actually Milo, or, as my friends call me, "Milo." I filled in
once over the summer
but had previously only shown up in
guest star roles
. Today, Rex is "behind on [his] work" so he asked a college student to fill in at the peak of midterm season. Rex has yet to learn that "behind on work" is a way of life—I have a Math midterm and a Culture & Belief midterm on Wednesday, a French project due tomorrow, a Gov project due today, a Music project due yesterday, and a Math problem set due last Wednesday (oops). In any case, this form of forced procrastination is greatly appreciated.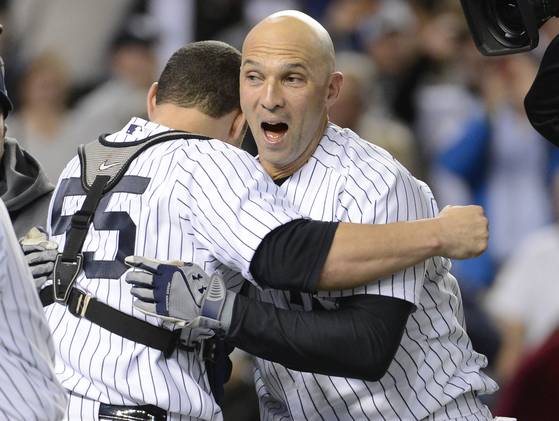 So, the puzzle. It's a puzzle. Tuesdays tend to be pretty hit-or-miss, with a batting average consistent with the MLB analogy. (Unless we're talking about Raúl Ibañez's post-season batting average this year. That guy's insane. P.S. The Yankees are gonna rally, just you watch.) There's no prototypical Tuesday puzzle, just Monday themes that turned out too messy to be clued at a Monday level and Wednesday themes that turned out so smooth and nice that they got pulled into the Tuesday slot. Since it's a lot easier to fill a grid poorly than well, we get the former a lot more than the latter. This grid falls decidedly into the former category.
Let's start with the theme.
Theme answers:
FARM ANIMALS (17A: Cows, pigs and chickens) — contains ARMANI, definitely the seed entry
ALASKA RANGE (24A: Location of Mount McKinley) — contains KARAN, which I'm not familiar with; I (post-solve) Googled SKARAN and ASKARA optimistically first to no avail
RADIO REPORT (54A: A.M. or F.M. news dispatch) — contains DIOR
ANKLE INJURY (63A: Sprain, say) — contains KLEIN
FASHION DESIGNER

(38A: One can be found in each of the answers to 17-, 24-, 54-, and 63-Across)
For starters, why the snappy 8 / 8 revealer INTERIOR / DESIGNER wasn't used is beyond me. When I saw the mundane central answer, I went to onelook.com and searched for phrases with "designer" in them, and the perfect answer jumped right out at me. The constructor could have taken the time to do the same so that I wouldn't have to.
Next, if your theme answers are real things (rather than wacky things) then make them fun real things. ANIMAL FARM is a fun theme answer. (Yes, I know it doesn't fit the theme. It's an example. If your theme doesn't give you good answers, throw it out.)
FARM ANIMALS
is a little mundane. SARAH PALIN'S ALASKA (if it weren't so long) would be a great theme answer.
ALASKA RANGE
is a thing, yeah, but that's all it is.
RADIO REPORT
s happen. One could get an
INJURY
on one's
ANKLE
. These are all things. Moving on.
But I'm being a bummer. Blame it on lack of sleep. There was fun stuff in this puzzle. I love
BABY GAP
, and how often do you get to see both faces of
ISAO
and
AOKI
at the same time? And some stuff that I didn't appreciate was probably appreciated by others, as is expected of someone whose mother qualifies for the youngest age category of the American Crossword Puzzle Tournament.
FAISAL
is just some dude's name for me (his death having transpired in the year 20 B.M.) and I tend to skip to the next clue as soon as I see the word "Verdi," seeing as the only opera I know much about is R. Kelly's hip-hopera.
(Warning: foul language, offensive plot twist, terrible music and writing)
So anyway. This was a puzzle.
Bullets:
It's 12:52am
I have a lot of work to do
You were probably going to skim the bullets anyway
Let's call it a post
Signed, Milo Beckman, acting regent of CrossWorld